5 reasons to choose USA Hair
Reason #1: All orders ship quickly for FREE from North America and are delivered in 2 to 9 days only! All transactions are 100% secured. We accept Visa, MasterCard, PayPal, bank transfer, check, and money order! There are no duty fees and no sales tax!
Reason #2: Easy hassle-free return policy (we even pay your return fees so you literally have nothing to lose!)
Reason #3: Frequently reviewed as the best place in America to buy high-quality hair extensions and wigs at affordable prices! Read USA Hair customers reviews ★★★★★
Reason #4: Only company to hand out FREE hair color samples! If you're unsure which hair extension color to pick, you can request 2 free hair color swatches. It's free and will be delivered in 4 to 10 days.
Reason #5: Earn rewards points on all your purchases and redeem those points for discounts.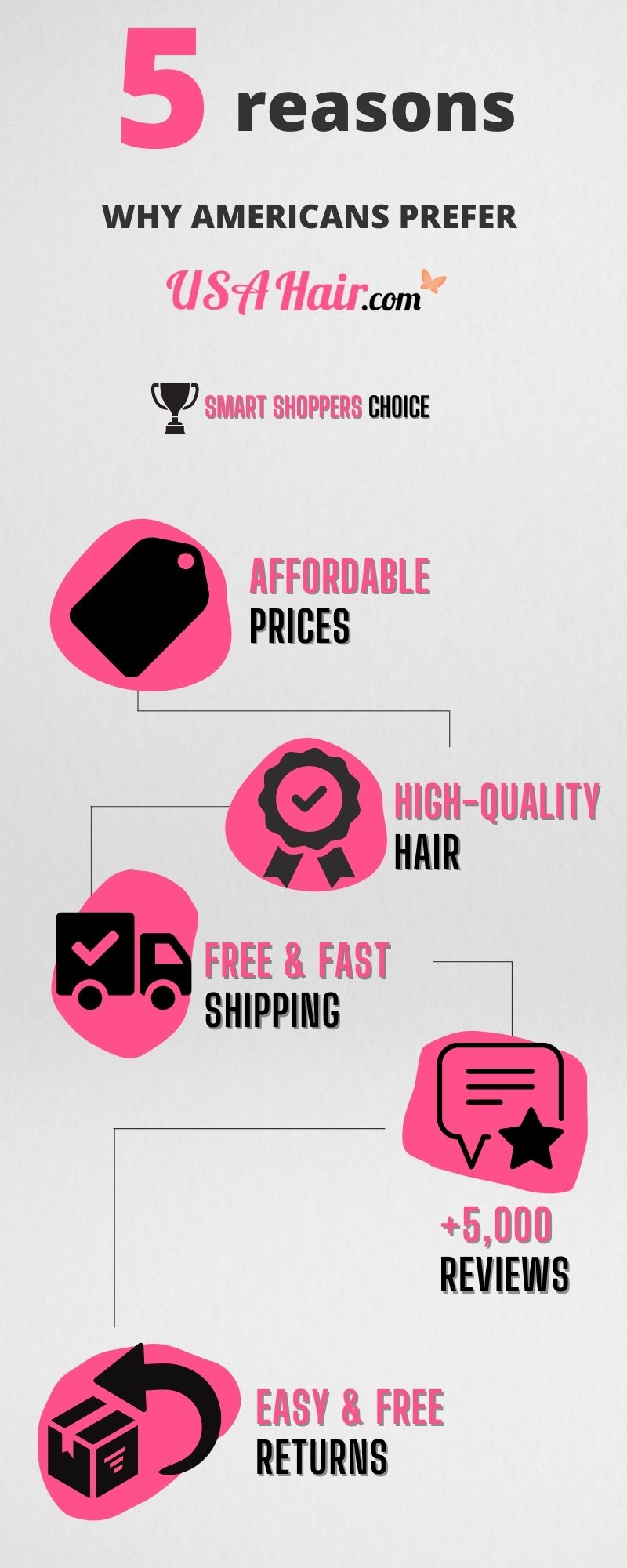 5 reasons to choose us
---
5 common questions on USA Hair
Question 1: How long does shipping take?
Answer: Orders are usually delivered within 2 to 9 business days. Shipping is always FREE and all orders ship quickly from North America!
Question 2: Which shipping carrier will deliver my order?
Answer: We ship with Purolator, USPS, UPS and FedEx. We automatically choose the most efficient delivery company for your shipping address.
Question 3: Will my payment details be safe?
Answer: We use encrypted SSL security on our entire store to ensure your payment details are 100% secure. This is the same level of security that banks use to keep your payment details safe.
Question 4: What's your return policy if I'm not satisfied with my order?
Answer: We do our best to ensure a 100% satisfactory shopping experience. We also pay your return shipping fees so you literally have nothing to lose. Click here to read our return policy.
Question 5: How to choose my hair color?
Answer: USA Hair extensions are offered in more than 20 beautiful hair colors and will blend seamlessly with your natural hair. You can get 2 colors swatches for free! It will be delivered by America Post in 4 to 10 days. Additionally, our team can help you choose the right hair color: reply to this email with a recent selfie taken in natural lighting with no direct sunlight, where we can see you hair from top to bottom, and with no filters added. Our team will be happy to make a recommendation!
Your question wasn't answered? Visit our help center or reply to this email with your question and we'll answer you quickly!
---
Review from Caval I am very happy with my recent purchase. Not only did I catch an amazing deal but it was delivered in record time. Easy to use and they look great. I was able to color them to match my hair perfectly. ★★★★★
Review from Alexandra USA Hair is amazing! I purchased clip in hair extensions- the hair came and it was beautiful but not the right shade for me. I contacted USA Hair and they were able to express ship me the correct color for me- since I needed it quick for an event. I am so thankful for this- no extra charge for the express shipping and paid for my return shipping. The hair is soft, shinny and beautiful! Thank you very much! ★★★★★
Review from Patricia I am a Hairstylist and must say this hair is such high quality. Super soft, curls and styles very easily. Very easy to install if you have to do it on your own. I will recommend to all my coworkers and clients ★★★★★
Review from Judyta I am soooo happy with my purchase. The unit looks exactly like it does in the pic. The hair is so beautiful and looks real..as does the hairline. I really hope this online store offers more units..such as bobs..and diff styles and colors in the future. Would definitely order again as its nice ordering from within America. ★★★★★
10,000+ Americans prefer USA Hair
---